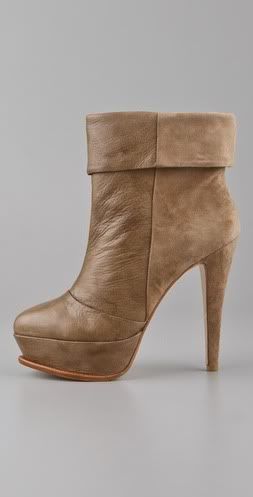 I finally caved in on my shopping ban last night and purchased these
Dolce Vita 'Calla' bootie
. I had been on the look out for a pair of light coloured heeled ankle boots for a while now, and I didn't want to purchase until I found the
perfect
ones. I feel like the search can now be called off, the mix of leather and suede makes them perfect for all manner of occassions. I'm fortunate enough to go Europe twice a year in June-July and at Christmas time to visit my family so finding items that I love and that can also be worn in any season is a huge selling point for me, and I think these tick all the boxes! The size charts on Shopbop always confuse me and as the size 7 was sold out, I got the 6.5 - I'm praying they'll be a perfect fit!
I've told myself I'm going to put a minimum of four items I never wear on eBay tonight as a trade off and I also signed up to the
Ethical Fashion Forum
last night too. They sent me their briefing report to my e-mail this morning, it was actually a really interesting read. My favourite fact:
A majority of adults (82%) claim to make their clothes last - we think the disposable fashion
trend could have peaked and 2011 may see shoppers reassessing value for money and
putting more emphasis on sustainability, integrity and durability of clothing.
(Mintel, Clothing Retailing - UK - 2010)